The rising trend of money incomes after 1900 meant that millions of families had more money to spend than ever before. The shortening of working hours meant that these consumers had more leisure in which to enjoy goods. The expansion of physical output meant that business men had a larger volume of goods to market. That recently invented goods bulked large among these products meant that manufacturers and merchants had to teach masses of men and women new tastes and ways. The changes which occurred in consumption habits before the depression seem explicable mainly in terms of these four underlying trends.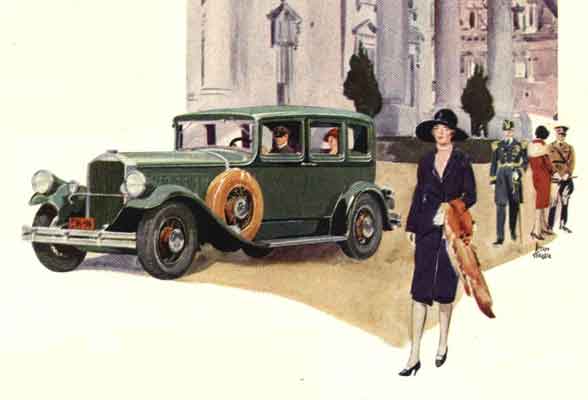 To begin with the task of forcing new products into family and individual budgets: The sponsors of novelties made use of all the arts of publicity to arouse unsatisfied longings. Their success was promoted by the fact that people with more than their accustomed sums of money to spend do not know from past experience how they can get the most satisfaction from the margin, and must experiment a bit. Hence they are more than usually open to suggestions conveyed by advertising, or the examples of others. By extending widely the device of instalment selling, this margin of unaccustomed purchasing power at the disposal of buyers was made broader, and gave the promoters of novel products a still better attack upon the consumer's mind. Meanwhile, the increasing rapidity and efficiency of communications were making it possible to wage selling campaigns on a fighting front which stretched across the continent. It is doubtful whether any earlier decade in the country's history had seen the wholesale adoption of so many new goods, such considerable changes in the habits of consumers, as the years 1920-1929.
The financial motives for launching new products have always been strong. The maker of a new article which appeals to buyers can hope to escape at least for a few years from close price competition. In 1920-1929, when output was increasing with unusual rapidity and wholesale prices on the whole were sagging, these motives were peculiarly strong. But the favorite methods of seeking to profit from new products seem to have changed in a measure. In the past, the novelty has often been held at a high price for years, and only gradually reduced to a level at which the masses of wage earners could afford to buy. Recently this process has been telescoped. Men who believed they had a novelty with a wide appeal often tried from the start to bring their article within the reach of as many consumers as possible, and hoped that they might realize the profits yielded by small margins multiplied by millions of sales.
Faced by such tactics, the purveyors of long familiar goods have had difficulty in maintaining their shares in the consumer's dollar. In self-defense, they too have resorted to high pressure salesmanship, payment by instalments, and the like. Hence an enormous increase in the thought and the money lavished upon selling, and an enormous intensification of the attack upon the consumer's attention. Not only is the housewife solicited to buy for two dollars down and a dollar a month a dozen attractive articles her mother never dreamed of; she is also told of unsuspected merits in products she has used all her life, which now come in new packages under seductive brands. The task of making wise choices becomes harder the more products are diversified, the more genuine novelties appear in the list, the more old types are dressed up in new wrappings, and the more conflicting advice is dinned into the buyer's ears.
The difficulty is a profound one, resting in the twist given our thinking as individuals by our scheme of institutions. Under our form of economic organization, the economic status of a family depends primarily upon the size of its money income. Hence, we devote far more attention to making money than to spending it. For example, in passing upon tariff issues at the polls, we are influenced much more by arguments about the effect of import duties upon wages, employment, and profits than by arguments about their effects upon the cost of living. There is scarcely a trade or profession in the country which has not formed an association to safeguard its economic prospects. Every member of every one of these associations is also a consumer; that is the only economic characteristic we all have in common. But we give no thought to this basic common interest which we give to the task of getting more dollars for our individual selves.
Our emphasis upon making money is re-enforced by the technical difficulties of spending money. Consumption involves the buying of a large number of different commodities, mainly in small lots. No single price means much to us; nor does the quality of the single purchase mean a great deal. To make much trouble about any one item scarcely "pays." To act wisely about all the issues involved is beyond our capacity as individuals. Yet our interests as consumers constitute our fundamental economic interests. Or are we mistaken when we say that most men work in order that they and their families may enjoy a comfortable living?
It would seem that there is little likelihood of improving common practice except by the development of special organizations to promote our interests as consumers more effectively than we can promote them as individuals. Government bureaus might conceivably play that role; but so far as the American government is representative of the American people it shares the basic defect in our thinking, and therefore seems little likely to correct it. As money makers, we can be relied upon promptly to object to any official service to consumers which jeopardizes our individual interests as producers. To give detailed advice about the qualities and "values" of competing products would require continual revisions to keep the information up to date. Any bureau which undertook such a service would invite charges of favoritism. It is not easy to see how the government could surmount the difficulties. Private ventures toward supplying what is needed in the way of counsel are being tried; but the scale of the services now rendered is small. "Home economics" courses are given to an increasing number of pupils in schools; but it is difficult to make these courses deal realistically with the rapidly shifting problems which the housewife confronts as a buyer. In short, the prospect of making our habits of consumption more rational and of getting the maximum satisfaction made possible by our technical progress is not bright. We may be losing ground, and perhaps we shall continue to lose for a long time to come.
Source: Recent Social Trends in the United States, an examination of the social state of the United States at the end of the 1920s undertaken at the direction of President Herbert Hoover.