The Turn-over Wave Hairstyle
The turn-over wave now occupies a special place in the various modes and coiffures of modern hairdressing. It is possible of execution in front of, and over, the forehead, at the sides, over or around the ears, at the back of the head, and in the neck. It gives an added smartness to particular styles of coiffures, and may also be used as a fixative expedient. The turn-over wave may be characterized as a normal wave, widely drawn out and turned over. This is true whether the original undulation be a water-wave or a Marcel wave; the "apple turn-over" touch can be given at will, provided the correct technique is followed.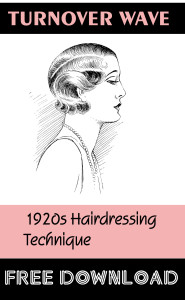 The "Turnover Wave" ebook is available as a Free Download in PDF format,
Thank you for your Interest in the Turnover Wave Hairstyle!