Create your own 1920s Themed Wedding with ideas from this eBook.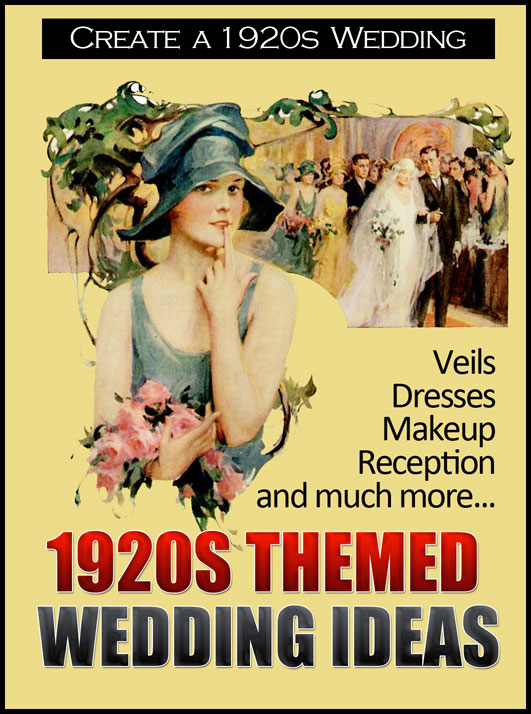 This is not about Gangsters and Molls! All the featured information in this 82 page eBook relates to genuine 1920s weddings for people who want to create an authentic period wedding. If you have seen the movie "The Great Gatsby" based on the book by F. Scott Fitzgerald you will have a more realistic view of how things really were in the roaring twenties.
Taken from my collection of 1920s literature, the eBook contains a mixture of rare color illustrations of 1920s wedding fashions along with a few black and white illustrations and photos. Most period photos are in black in white, and even if descriptions are provided it is difficult to visualize the dresses and accessories so it is a revelation to see these color illustrations.
Fashion designers will love the beautiful color illustrations and the inspiration they provide. Brides and Bridesmaids will fall in love with the stylish 1920's dresses and accessories.
Wedding planners will have access to hard-to-find information on all aspects of wedding design.
The 1920s Wedding Theme eBook is provided as a downloadable 82 page PDF file and requires the Free Adobe Reader software which you probably already have for viewing. Due to the large number of illustrations the file size is 13.7MB so you will need a fast Internet connection for downloading. Cost is only $17.00 and the PDF is available for instant download.
The following list of contents gives you an idea what to expect.
TABLE OF CONTENTS
INTRODUCTION
1920s Themed Weddings
THE RECEPTION
Decorating the Bridal Table – 1925
Planning the Wedding Refreshments – 1927
Wedding Menus from 1927
Cakes for the Bride and Bridegroom – 1929
WEDDING DRESSES
Pre 1920 Bridal Fashions – An Overview
A Bride of 1920
French Wedding Dress
Wedding Party
When One is to be a June Bride
1924 Colorful Bridal Party
1925 Wedding Outfits
Brides of 1926
A White and Yellow Wedding for the Springtime
Bride & Flower Girls of 1927
The Bride of 1927
Bride in Green
The Duchess of Marlborough
1928 Bridal Costume
1928 Bridesmaid Costume
Brides and Bridesmaids Of 1928
1928 Bridal Gown
1928 Bridesmaid Dresses
The Easter Bride of 1928
Three Costumes for a Wedding Day
1928 Wedding Veils
1930 Cover Bride
1930 Bride and Groom
1931 Cover Bride
1931 Bride and Groom
Bride and Matron of 1932
ETIQUETTE
Wedding Etiquette – 1922
ENGAGEMENTS
WEDDING INVITATIONS & ANNOUNCEMENTS
WEDDINGS
THE BRIDE'S OUTFIT
STATIONERY
Wedding Invitations – 1922
If you have any problems you can Contact Us via the contact form at top of the page and we will get back to you within 24 hours.